About Us
The story of School Of Daiko begins back when our founder Wang Junyong was in secondary school. Finding difficulty in academic achievements, later he found himself in a less than ideal environment where he lacked self-confidence due to his situation in school.
Fortunately, Junyong was given the opportunity to learn Taiko drumming at a youth centre where he discovered a lifelong passion for learning. Through drumming, Junyong built up his self-confidence and social skills as he found people willing to believe in him, nurturing him to excel.
Seeing the positive benefits in his own life, Junyong began spreading the art of Taiko drumming to youths at risk in similar situations he was once in himself.  Leveraging on his own experiences to reach out to youths, School Of Daiko was formed in 2007, to cultivate the values of hard work, discipline, and innovation in youths that society might once have written off.
Beyond working with youth at risk, School Of Daiko also works with corporate partners to build teamwork skills through creative programmes. Proving that Taiko is suitable to people from all walks of life, School Of Daiko soon began running social programmes for senior citizens and also those from vulnerable communities, preschool and childcare centres, bringing joy and enrichment to their lives
Motto :
Learning Music, Moulding Values
Mission :
To enable character-building and life values facilitation via the art medium of Taiko drumming and to make Taiko drumming physically & musically assessable to everyone.
Vision : 
To be a trailblazer in the music-based & character-building space in the region and to inspire others in lending a helping hand to those that require assistance.
Our Training Methodology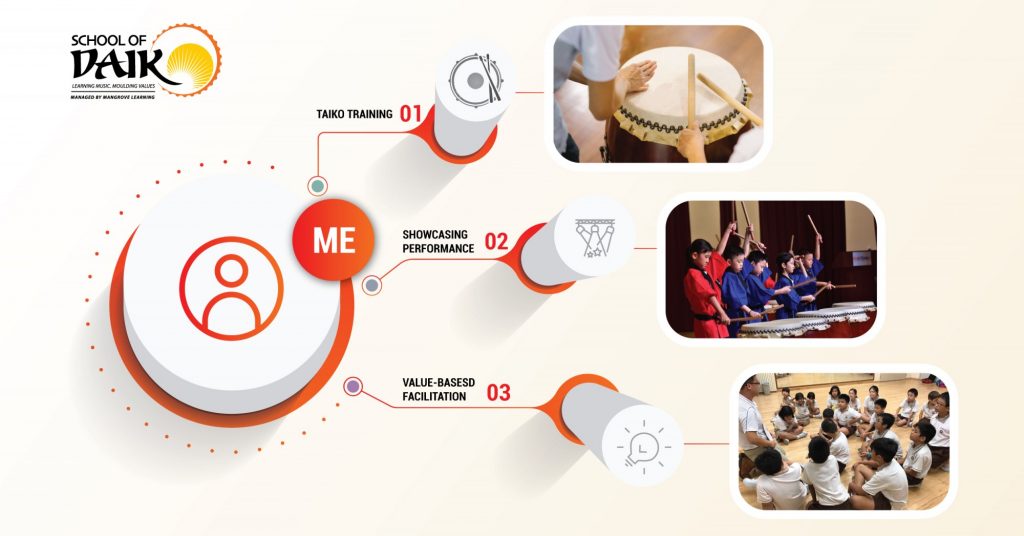 Mangrove Learning Pte Ltd
MANGROVE LEARNING PTE LTD was first established in 2011 as the holding company for School of Daiko. Mangrove Learning Pte Ltd was set-up to focus on value-based learning by providing niche and diverse social development programme. The team believes is using unconventional methods such as music and the arts to engage and develop vulnerable communities toward self-actualisation. 
With a greater social mission, Mangrove Learning registered as a member of the Singapore Centre for Social Enterprise (raiSE). Mangrove Learning Pte Ltd was also supported by ITE College Central's Enterprise Development Centre and The Philip Yeo Initiative.
FUN FACTS !
WHY MANGROVE ?
Thriving in the harsh environment of brackish swamps where seawater meets freshwater, the mangrove tree has everything going against it. Despite this, the mangrove tree is able to sink its roots deep and wide, where it provides shelter to the organisms living around it. In this sense, Mangrove Learning seeks to build and foster community, nurturing creativity and innovation in all those we come into contact with!