The Mangrove tree
The mangrove tree was chosen as it symbolises everything our company stands for. Thriving in the harsh environment of brackish swamps where seawater meets freshwater, the mangrove tree has everything going against it. Despite this, the mangrove tree is able to sink its roots deep and wide, where it provides shelter to the organisms living around it. In this sense, Mangrove Learning seeks to build and foster community, nurturing creativity and innovation in all those we come into contact with.
Our Journey
The story of Mangrove Learning begins back when our founder Wang Junyong was in secondary school. Finding difficulty in academic achievements, Junyong found himself in a less than ideal environment where he lacked self-confidence due to his situation in school.
Fortunately, Junyong was given the opportunity to learn Taiko drumming at a youth centre where he discovered a lifelong passion for learning. Through drumming, Junyong built up his self-confidence and social skills as he found people willing to believe in him, nurturing him to excel.
Seeing the positive benefits in his own life, Junyong began spreading the art of Taiko drumming to youths at risk in similar situations he was once in himself.  Leveraging on his own experiences to reach out to youths, Mangrove Learning was formed in 2007 (then a sole proprietorship, School of Daiko) to cultivate the values of hard work, discipline, and innovation in youths that society might once have written off.
Beyond working with youth at risk, Mangrove Learning also works with corporate partners to build teamwork skills through creative programmes. Proving that Taiko is suitable to people from all walks of life, Mangrove Learning soon began running social programmes for senior citizens and those from vulnerable communities, bringing joy and enrichment to their lives.
Mission – To research & develop a series of educational methodology & technology to engage and develop vulnerable communities towards self-actualization.
Vision – Mangrove Learning envisions a Mangrove Eco-system to nurture and encourage growth among its user, stakeholders & community.
Motto – Creative Programs, Innovative Learning, Building Community 
Our Core Values :
Empathy 
Courage  
Innovation
Trainers

Wang Junyong – Founder and Chief Trainer
As a child, my school holidays were spent in a construction site, where my father operated a food stall for the constructions workers.  It was there that I was exposed to the concept of entrepreneurship and learnt the value of money and hard work.  My academic journey was not all smooth sailing, climbing up from the Normal Technical stream to ITE, Polytechnic and now pursuing my part-time degree at Singapore University of Social Sciences. The experiences I gathered in the small food stall taught me to persevere and be persistent throughout the years.
Through playing Taiko drums, I was armed with leadership skills and confidence that I never thought possible. I have been very fortunate to be able to receive guidance and advice from my mentors, dating back to Poverello Teen Centre and now the Philip Yeo Innovation Fellows.
Besides running the day to day operations of Mangrove Learning and pursuing my part-time studies, I am actively involved in a number of international and local youth conferences and programmes with the National Youth Council. I also served on the board of the Institute of Technical Education's Alumni Association Management Committee.
My mantra in my life is" Don't ever let someone tell you that you can't do something. Not even me. If you have a dream, you got to protect it. When people can't do it themselves, they will tell you that you can't do it. You want something? Go get it! "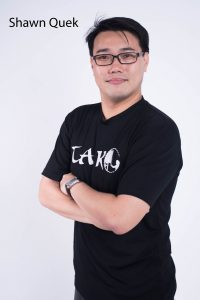 Shawn Quek – Programme Manager and Lead Trainer
Over the years, I have been blessed with opportunities to conduct training in various schools and organizations in different capacities, as a trainer for enrichment, education, music, soft skills and team building. From being a professional musician with the Singapore Armed Forces Band, to a kids gym trainer, a youth worker, and a Student Care Centre manager, I have interacted with many groups of people, big and small. These different and diverse experiences have equipped me to conduct many different types of training, with techniques and approaches shaped for each individual.
I was a full time team building trainer, having the honor to have conducted activities both locally and overseas for clients such as Singtel, Science Centre Singapore, National Institute of Education and Knowledge Universe. Besides conducting training, I also host and emcee for events such as dinner and dance, Teachers' Day Dinner and other ad hoc projects. Using these experiences, it has allowed me to work smoothly with different age groups and being able to interact and connect well with others.
At Mangrove Learning, I have the opportunity to conduct training for children, youths and adults, and am thoroughly blessed and honored to have encountered and helped so many people throughout my working experiences. I hope to continually be an educator to all and also a hungry learner in this journey of life.
I believe that children need more engagement and positive reinforcements from their loved ones and those they look up to. As much as the pursuit of academics is important, I believe it is more important how we nurture the character of our young, our future, and our tomorrow in ways to grow a holistic and well balanced citizen.
To end off, here is a quote that encapsulates my personal training philosophy.
"Tell me and I forget.
Teach me and I remember.
Involve me and I learn"
Benjamin Franklin
Pek Ling Huan – Associate Trainer
My name is Ling Huan, and my passion is in teaching children with special needs. I majored in psychology in the University of Wollongong, and have extensive experience in teaching, with 10 years of experience in both the private and public teaching sectors.
I believe that every child is unique in their own way and that values and character development come first, and results will follow later.
The first time I taught Taiko was during a lesson with children with autism and Down's syndrome. It was an opportunity for me to get to know them in person, relating and applying what I learnt in school. Besides teaching children with special needs, I also worked on a research project with seniors. It was another area where I had not come into contact with, which was something that I got to experience outside of my undergraduate studies.
Besides Taiko, I have been playing the piano from a young age, and spent many years in the school choir. Music and rhythm play an important role in my life, as a form of self-expression and an emotional outlet.  Using my experience in psychology, I currently volunteer in the Singapore Police Force as a sexual crimes victim care officer as well as trauma care.
Elizabeth Loh – Associate Trainer
In the past, I was a person who was quiet and lacked confidence. After joining a youth centre and picking up Taiko drumming, I became more sociable, confident and bubbly. Through Taiko drumming, I learnt leadership skills and how to work with others. With much persistence, I was able to graduate with a diploma in Business Management, specialising in human resource management and events.
As a secretary in a Youth Executive Committee (YEC), I have the opportunity to serve the community with like-minded individuals by organizing and volunteering for events where I have the opportunity to touch and change lives. In addition, I have been in in the Executive Committees (Exco) of several Events companies where I have the chance to plan and execute events for over four years. As an associate trainer in Mangrove Learning, I am privileged to be able to cultivate the values that I have learnt to the youths, passing on my experiences.