Hello everyone! It's your favourite Taiko drum, Daiki! This time around, I will be talking about myself as I am always talking about what me and my friends at Mangrove Learning (ML) are doing but I have noticed that I have never touched upon a single subject, which is, or was, introducing myself.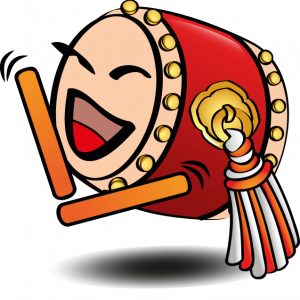 My birthday is on the 1st of January, where I was born from the thoughts and ideas of several individuals, which I can and want to thank. My name is Daiki and I enjoy doing drumming sessions with my friends, my friends being, those from ML, the people that we teach, basically I am and will be friends with everyone and anyone! I am a cheerful Taiko drum people might say but that is what the people that created me envisioned! They thought that to encourage more interaction with ML and the community, it would be better to do it with a mascot. I feel that being a happy-go-lucky Taiko drum has its benefits and working together with my friends at ML is indeed fun and fulfilling.
I mean, I get to go all around Singapore, playing my favourite Taiko drums, which I really adore! But it's not always about Taiko drumming, it's about meeting new people through our love and interest towards Taiko drumming, see Taiko drumming is not just a hobby, a job, an activity to do in your free time. It can be so much more! You can use Taiko drumming as a medium to express yourself through performances, through guiding others, through playing at festivals and whatnot… all-in-all, Taiko drumming is somewhat an aspect of life for me. I also get to play alongside different kinds of people too. those that are trying to find themselves, those that are doing because it is fun, so much more!
For others, Taiko drum is like a sport too, as not only does it require strict discipline, it also helps exercise the whole body, working up a sweat for them. Not only that Taiko drumming is also used in festivities in Japan. The beautiful part about Taiko drumming, especially those that are done for performances on stage are ones that require proper choreography, to develop awareness with oneself and also their body movement in space and interaction with other players.
Overall, I love Taiko drumming! It is fun, like an exercise, engaging, brings you closer to your friends and yet so much more! So what are you waiting for, come and explore and find out more new things about Taiko drumming with us at Mangrove Learning!
~ Daiki [sales@mngrovelearning.com]